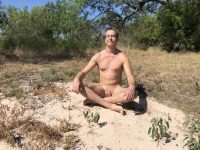 I was born naked. You would think everyone else was not.
Ever since I can remember, clothing seemed completely unnecessary to me. As a kid, I swam naked, I slept naked, I played naked. Even though my friends insisted on wearing clothing I preferred the natural option.
Now that I'm a Free Man, I take my freedom seriously. I bought my 3.5 acres of land in the country and am almost finished building my dream house. It has been months since I've worn any clothing other than for trips to town for groceries and building materials. Even then, I select my shorty short shorts, a tank top and sandals.
My skin has never been healthier and happier and neither have I. My stress level has gone from 11 to maybe 1 now. My body is healthier and my mind is seriously calmer. I've lost almost 10 pounds and am eating healthy food almost all the time since it is too far to go for dining out.
There's no doubt that I am still lonely but even though I think about it every day, it doesn't bother me as much anymore. I remember that nobody else I've ever met understands Awesomeness therefore the chances of finding someone is quite minimal. Better to not stress over it. If that person exists, she/he will find me. If not then it was not meant to be.
I have only one neighbor in viewing range but they don't mind if I run around naked. It's high summer here in Texas and when it is 100 degrees every day with blazing sun relentlessly baking the land from 8 am to 8 pm and no significant cloud-cover, going Au Natural is a wonderful solution. Air conditioning is still a necessity but without the unnecessary insulation keeping your body heat in, you can set the thermostat higher and save so much money. My last electric bill was $75.00.
This morning, after breakfast, I went out and did a little yard-work and let the morning sun wash over my naked body. The air was still a little cool and it felt perfect. I am one with the natural world.
I wish everyone else could experience life this way. How much happier would we all be if we weren't hindered with the stigma and incomprehensible misunderstanding that the body is an embarrassing thing that must be kept hidden. What is this? The 1800's? We are all the same. Don't worry about it. In a better dimension, this wouldn't be a problem.
Save the world and save yourself. Be naked and be happy. Freedom is only .009 inches away.