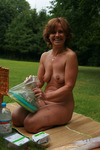 Public Group
active 2 days, 21 hours ago
Diogenes Sun Club is a family-friendly Naturist Club in Buckinghamshire, one of the "Home Counties," as the counties encircling London are called.
A large old Manor house, which became Diogenes Sun Club in the 1930s after a lot of hard graft by the Club's founder members, it's surrounded by six acres of grounds suitable for camping.
Diognes Sun Club has a wide range of facilities , including an indoor and outdoor pool, 10 boules pistes, volleyball court, 1 tennis court and 4 miniten courts, sauna, plunge pool, vast lawns for sunbathing, children's play area, a newly refurbished children's playroom, table tennis room with a full sized table tennis table and darts board, a television room (barely ever used), camping stores, large conservatory, large dining room, tea room, kitchen, skullery, pantry.
With over 300 members and numbers rising , Diogenes is actively involved in promoting the Club via social media to get the word out about Diogenes Sun Club and Naturism/Nudism in general. In 2012, Diogenes Sun Club was awarded a British Naturism President's Award for their Promotional Efforts .
The Club has an active sports and social diary of events during the year and is a British Naturism Member Club and through association, a Member Club of the International Naturist Federation .
Emma James , who runs this Nook Club, actively helps to promote Diogenes Sun Club, assisting the Club's PR Manager and Andrew Welch , the Commercial Manager of British Naturism who is also a member of Diogenes and lives locally. Between us and other members of the Committee, the Club is well positioned to capitalise on social media and developments in technology, with a team of techies also managing, developing and refining the website. I became a member of the Committee this Spring, with a responsibility for Social Media, assisting the PR Manager and Ladies Recruitment and I also help to run the @DiogenesSunClub Twitter account .
Diogenes Sun Club ; http://www.diogenessunclub.co.uk/
Diogenes Sun Club on Twitter ; https://twitter.com/DiogenesSunClub