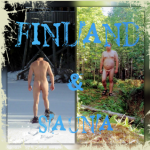 Public Group
active 1 week, 1 day ago
Finland briefly:
There are three border-neighboring countries in Finland: Sweden, Norway and Russia. South neighbor Estonia is behind the Gulf of Finland. Åland, between Finland and Sweden, is an autonomous island group that is part of Finland. Finland is one of the Nordic countries with Sweden, Denmark, Norway and Iceland. If you think you see polar bear in the streets, you will be come disappointed. 😉 The Only place where you can see a polar bear in Finland is RanuaZoo.
Naturism / Nudism in Finland:
In Finland there are two naturist associations: the Luonnonmukaiset ry (SNL) and the Finnish Naturist Club (Suomen naturistiklubi ry) (SNC)
The Finnish Naturist Association (SNL) of these association of national associations, which is a member of the International Naturist Association (INF).
Associations' web site:
https://www.luonnonmukaiset.fi/english.html
http://www.naturistiklubi.fi/en/index.html
In Finland we can enjoy nudity everywhere, where it is in harmony with environment and other people. And when it's not be provocative behavior. In the quiet forest areas of the outback, you can wandering nude and it is permissible, but it is understandable that it can cause astonishment in for other wanders that you may see.
The nature in Finland is great place for naturist. Here is lots of woods, beaches, meadows and other places. There is a liberating lay down on the seaside cliffs or hiking naked along the paths in forest, or fishing on the cliffs or going to the lake on a rowing boat. Most of finnish naturist are summer cottage naturist, where they may be naked all day long and several days.
Beach:
Here in Finland we do not have many places for naturist, but here is some:
In Helsinki we have naturist beach/area in Pihlajasaari island. The island consists of two parts, western and eastern. The southern part of the eastern part is reserved area to naturists. Services include a shower and toilets, but other services (kiosks and cafes) are located textil area.
There is also chance to naked swimming in Seurasaari. There are nude swimming areas for ladies and gentlemans. So this is not realy naturist beach, it's only for nude swimming, because there is separate areas for womens and mens. And Wednesday and Sunday it's have to uses swimsuit.
Many people think that the best naturist beach in Finland are in Pori Yyteri . Yyteri sandy beach is excellent for all ages naturists. In naturist beach not have any services, but you will find them in textile beach.
The informal naturist area of Kolkannokka, which is connected to the Saaronniemi campsite in Turku Ruissalo , is a small stretch of coastline, which also has a fine sand beach.
In Hanko you can find a naturist beach at the end of public beach of Tulliniemi. This beach is also suitable for kids. The distance from Helsinki is 126 km and the driving time be 1h 40. Hanko is suitable for day trips.
SAUNA:
In Finland we have about 3,2 million sauna. But we have only one swimming hall where you can swim naked and it's in Helsinki Yrjönkadun Uimahalli . And again but, for womens and mens there is a separate times to swimming. Yrjönkadun uimahalli is beautiful it's built 1928 and renovated end of the 90's. There are two electric saunas and one wood-heated sauna. It's optional swimming with or without swimsuit.