I recently had the oportunity to go free hiking in Wells Grey Provincial Park, BC, Canada. I went to a water fall lookout called Deception Falls. Access to the water itself was non existant but the lookout provided excellent views.
Anyway, I left early and as it was mid week I expected to be by myself and I was. When I arrived I stripped down and sprayed on some bug spray, grabbed my shorts (just in case someone came upon me) and camera and headed up to the falls.
The hike was enjoyable, not just because I was naked but the weather was perfect. It wasn't to hot and it wasn't to cold. No one showed up along the way in or out.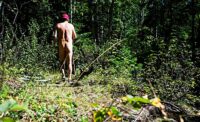 Free Hiking
Later on as I was headed back to my campsite I saw a trail for Canim River and decided I had time to investigate that as well. Again I was alone and thought I'd head in but remained clothed. Once I was in far enough I found a side trail down to the river and investigated it.
I was lucky enough to find a bit of a rocky shoreline and the water wasn't to cold. In fact it was wonderful!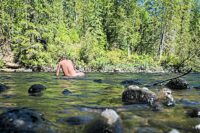 Naked and refreshed
At one point I thought I heard voices but no one showed up.
I spent about a half hour in the water then got out and picked up my shorts and camera and began heading back. Still nude I watched for other hikers. Imagine my suprise when I finally got to the trail head and found another vehicle. How could they have missed me? How could I have missed them? Glad I dried off enough to put my shorts on on the way out!
The sound of voices made it's way through the woods and I soon found the vehicle owners. As they came out the woman asked if I needed a moment, because I was behind my vehicle's door and from her perspective I could have been nude except for the footware I had on.
After exchanging pleasentries they went their way. I never knew if they saw me nude or not. They were to soon behind me coming out of the forest to have missed me walking nude but they didn't say anything.
All in all, it was a very enjoyable day.