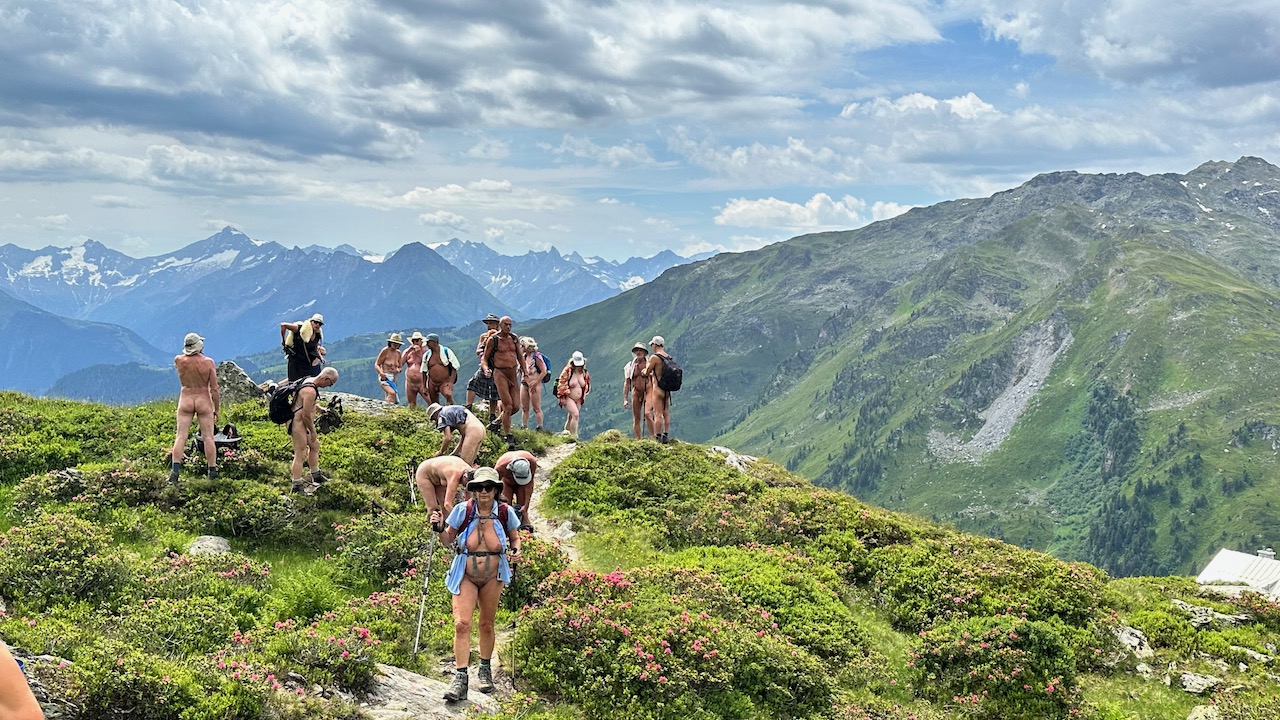 International naturist meeting week from Sunday July 7th 2024 to Sunday July 14th 2024
Thanks to the initiative of Richard Foley, who started this meeting more than 10 years ago, we organize again a naturist hiking week in the Austrian's moutains.
The spirit of the group is to be a multinational composition of mens, womens, couples and families, with everyone participating in the group's life (cooking, cleaning…).
Hikes are based on the level of the participants. However, as hikes include from 500 to 1200 meters of altitude difference, they require a good physical condition.
The accommodation is located in a comfortable mountain cottage which offers rooms for 2-4 people.
The total price for the week per person is 320 euros. It covers everything : house's rent, tourist taxes, groceries and other fees (240 euros for the accommodation and 80 euros for the food).
Informations and requests to participate : inac.natfree@gmail.com (in French, German or English)
P. S.: Places are limited depending on the accommodation capacity. Due to the high number of demands, inscriptions will be distributed in the order of registration. We will give priority to family with children and couples, while respecting a good mix of nationalities.
________________________
Semaine de rencontre naturiste internationale du dimanche 7 juillet 2024 au dimanche 14 juillet 2024
Grâce à l'initiative de Richard Foley, qui a lancé cette rencontre il y a plus de 10 ans, nous organisons à nouveau une semaine de randonnée naturiste dans les montagnes autrichiennes.
L'esprit du groupe est d'être une composition multinationale d'hommes, de femmes, de couples et de familles, où chacun participe à la vie de groupe (cuisine, ménage…).
Les randonnées sont basées sur le niveau des participants. Cependant, les randonnées comportant de 500 à 1200 mètres de dénivelé, elles nécessitent une bonne condition physique.
L'hébergement est situé dans un confortable chalet de montagne qui offre des chambres pour 2 à 4 personnes.
Le prix total de la semaine par personne est de 320 euros. Il couvre tout : le loyer de la maison, les taxes de séjour, l'épicerie et les autres frais (240 euros pour l'hébergement et 80 euros pour la nourriture).
Informations et demandes de participation : inac.natfree@gmail.com (en français, allemand ou anglais)
P. S. : Les places sont limitées en fonction de la capacité d'accueil. En raison du nombre élevé de demandes, les inscriptions seront distribuées dans l'ordre d'inscription. Nous donnerons la priorité aux familles avec enfants et aux couples, tout en respectant un bon mélange de nationalités.
________________________
Internationale FKK-Wanderwoche von Sonntag 7. Juli 2024 bis Sonntag 14. Juli 2024
Dank der Initiative von Richard Foley, der dieses Treffen vor mehr als 10 Jahren ins Leben gerufen hat, organisieren wir wieder eine Naturisten-Wanderwoche in den österreichischen Bergen.
Der Geist der Gruppe ist eine multinationale Zusammensetzung von Männern, Frauen, Paaren und Familien zu sein, wobei jeder am Leben der Gruppe teilnimmt (kochen, putzen…).
Die Wanderungen sind auf das Niveau der Teilnehmer abgestimmt. Da die Wanderungen jedoch zwischen 500 und 1200 Höhenmetern umfassen, ist eine gute körperliche Verfassung erforderlich.
Die Unterkunft befindet sich in einer komfortablen Berghütte, die Zimmer für 2-4 Personen bietet.
Der Gesamtpreis für die Woche pro Person beträgt 320 Euro. Darin ist alles enthalten: Miete des Hauses, Kurtaxe, Lebensmittel und andere Kosten (240 Euro für die Unterkunft und 80 Euro für die Verpflegung).
Informationen und Teilnahmeanträge: inac.natfree@gmail.com (auf Französisch, Deutsch oder Englisch)
P. S.: Die Plätze sind je nach Kapazität der Unterkunft begrenzt. Aufgrund der hohen Nachfrage werden die Einschreibungen in der Reihenfolge der Anmeldungen verteilt. Wir werden Familien mit Kindern und Paaren den Vorzug geben, wobei wir auf eine gute Mischung der Nationalitäten achten.