Date/Time
Date(s) - 22/07/2019 - 31/07/2019
All Day
Location
Waldcamping Pirna-Copitz
Categories No Categories
Tags

Dear Hiking Friends,
in 2019 we can say again on "Eschd säggsch": "Glamodden und Boddn aus, auf gehd's nach Birne" ( or for the non-Saxons-Visitors: "Clothes and Shoes off, let's go to Pirna" ).
Who we are ?
We are the "Freundeskreis Sächsischer Naturisten", a small Group of Naturists, who are interested in naked Undertakings. These include Wolfgang and Mario from Heidenau, Andreas from Pirna, Torsten and Martin from Dohna and Albert from Pirna, as well as some other Friends from Saxony …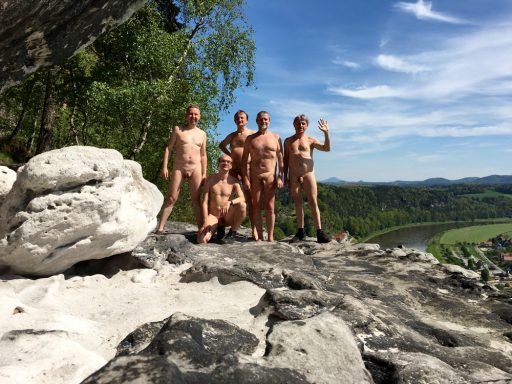 Once a Year we invite you to our Naked Hiking Week. The Number of Guests grows from Year to Year, so we are honored many Guests from Germany and a few from France. But we also welcomed Guests from Great Britain, Hungary, Slovakia – and last Year – from Ireland and Singapore.
The Hiking Days
During our Hiking Week you will meet different difficulty Levels for each Hike. For Friends of a well-groomed Hike there's nothing that speaks against, because for every difficult Ascent or Descent, there is also an Alternative. So we can accommodate to Dog Owners.
However, you should bring a Minimum Level of Fitness and Dizziness, as most Paths in Saxon Switzerland are mountainous and often lead along steep Slopes. In some Places it may also be necessary for a small Climb or handle one or the other Ladder. However, this is usually only limited to climb between two Stones, so Climbing Equipment is not necessary. However, this is the Charm of this particular Sandstone World …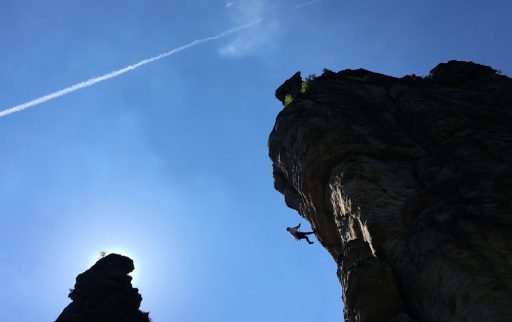 On the Hiking Day we meet at 9 AM to 9:30 AM at the Collective Parking Lot and drive by Car to the Starting Point of the Hike. The Journey takes – depending on the Distance to the Starting Point – 30 Minutes to an Hour ( it depends on the Traffic ). If you want, you can also go directly to the Starting Point, the respective Coordinates for the Parking Lot can be found in the Description of the respective Hike ( only available in German, but you can use a Translator of your Choice ). During the Hike, we usually fall back on our Self-Catering. Since last Year, we plan a Stop at a Restaurant during each Hike.
On the Return Jounrey there is the Possibility to buy some Things in the Kaufland at Pirna-Sonnenstein or in Pirna-Copitz.
The Bike Ride
During our Hiking Week we want to do a Bike Ride in the Czech Republic. Here we would like to enjoy the good Czech Cuisine and the – well known – good Beer in a Restaurant. The Bike Ride takes us about 70 Kilometers ( Round Trip ) along the Railway along the Elbe Cycle Route. If you want, you can always go by Train from one of the many Stations we pass.
The Cycle Path along the Elbe is very beautiful and can almost always be driven naked. With enough Cyclists there's no Problem, so we can ride the whole Distance without our Clothes.
Registration
You can register without any Obligation by sending us an e-Mail to snw@nacktwanderfreunde.de. If you want to see more about us and the Saxon Switzerland, you can also visit our Homepage.
We would be glad if you could send us the following Information:
Arrival Day and Time or Period
Arrival by Car, Caravan or Train
Accommodation Type and Location, so that we may pick you up
Should you be prevented, we would appreciate a Notification. A short iMessage, a FaceTime-Call, an SMS or a Call without giving a Justification are sufficient here.
Last, but not least: You can arrive and depart at any Time. Let's say: Being there is everything 😉 …