Friday arrived all too soon, and we packed to descend from the hills, clearing and carrying our rubbish away with us. It was at this point that we really appreciated having had a static base camp, and light day sacks for every day's walk, as we lifted our loads heavily onto our backs for the return march.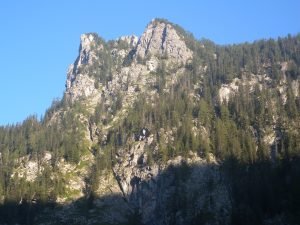 It was sad to be leaving this charming spot, but there are other things to do. We set off and this time managed to find the more appropriate route, the 450 proper, which took a less steep approach to the cliff face below us and made for much more straightforward walking on the top section of our return march. Zig-zagging down through the steep woods we kept seeing the Blunthautal opening up before us, and at one point the trail actually grazed the top of a sheer cliff. The only thing between us and several thousand vertical feet to the trees directly below us, were two (not very thick) tree trunks wedged between a rock and another tree. While probably very solid, I was not game to experiment and we kept a respectful distance from the absolute edge. The drop was sheer and not the place to lose a football. After a while, and having reluctantly decided that this was probably the only feasible place a cow could be driven up this mountain, we reached the Kraitzalm hut once more where we stopped for a well deserved rest before continuing our descent. Down, down, down, always down through the trees.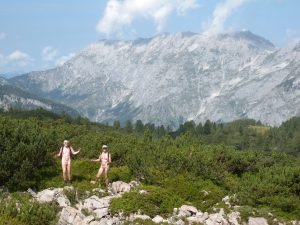 We were all tired when we finally reached the forestry road at the base of the mountain. Just then a 4WD car/station wagon drove up and stopped, the driver was the man I had met while walking up naked on the Sunday night at the Kraitzalm on the way to scout out the campsite. He was very friendly and said he recognised me from the umbrella(!). I told him his mountains here were spectacular, and that we'd just spent a super week hiking naked high up and having seen nearly no-one the whole time. With that, we shook hands amicably before he departed up to his hut, and we down to the valley. Bernard took the opportunity for a quick skinny dip in the popular river as we regained the main road, a (textile) family swimming next to us found this faintly amusing and so I had to explain we'd just spent the week hiking naked in the alps above. They laughed. We trailed into Golling for a celebratory beer, before catching the train out. It had been a wonderful week, we'd been very spoilt with the only threatening weather happening at night, and otherwise we'd had uninterupted sunshine all week long.