Thursday dawned clear and dry and we got away a little earlier this time. As we left the campsite Milt, somehow, spotted a real Newt in the grass. This we picked up and photographed as a fitting mascot for the week's walking tour, before carefully placing the little fellow back in the grass to grow up to be a true mountain hiker, naked of course. Bernard, Milt and I set off into the trees and up the steep trail. We went off-route and made a bee-line through the little valleys and woods towards a hunters hut we had seen from our first day out, almost directly above our campsite, separated by perhaps 200 vertical metres.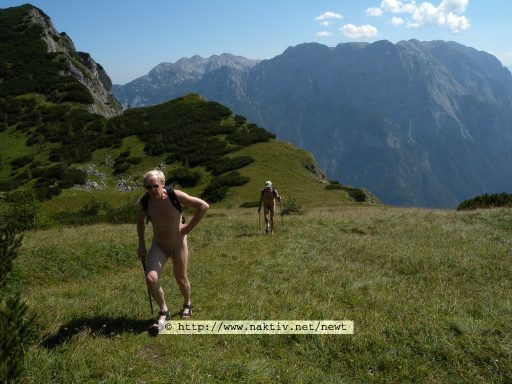 Reaching the hut, we took a break and soaked in the atmosphere of an imposing view of the Tristkopf, and a stupendous view of the previous days hike up to the Hochwiesspass. The hut, built in 1935, used rainwater as a water source, which rather limited it's use in these dry times, but was so well situated that we were all captivated by it's charm. Setting off west we wended our way around to a hidden valley, where we surprised another couple of Marmot's into another display of standing on brown rocks and piping out their piercing alarm calls.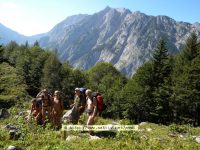 Moving on, we passed another (abandoned) hut and summer pasture, before heading towards the ridge above. The way was tortuous and wound through thick mountain bush growing from limestone clints. Some interesting route-finding found us on the summit of our target ridge, and the views just got better. The drop to the Salzach valley below was now nearly vertical, and the peaks all around began to take on a more toothy appearance.
The sunlight shone down through the high cumulus and lay the mountain profiles lightly one atop the other, receding in intensity and vastness as their distance grew. Lunch was whatever we had with us and after we'd rested we moved on. A brief sojourn to the neighbouring summit was dismissed by excessive bush, and we found our way instead back towards the Fillingalm once more. The day ended by being shorter, but a more adventurous route overall, with us following distinctly indistinct and unmarked trails for most of the time. Probably the only people who ever make it up here, we mused, would be the occassional hunter, these days. We finished the day with yet another bonfire, which we also (finally) used to cook up some soup, but that's another story.