A short while ago a friend and I went for a hike with my dog Polly in the Tarragona region of Catalunya, Spain.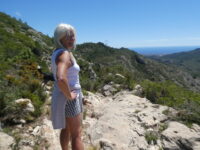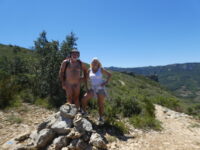 It didn't take long for the heat and the uphill hike and my age and general (un)fitness to start making me sweat. So off come the clothing and onwards and upwards went the boots. While my friend didn't participate in the nakedness, she definitely participated in the hike, and we had a wonderful day exploring some gentle trails in this wonderful area.
The route went over a ridge, down the other side, then up the valley and back over the ridge again. On the way we skirted a couple of villages and discovered a small spring source of fresh water unexpectedly high up the hill.
All in all, the three of us had a great day, and of course as Arnie said: "Aeil be baeck!"