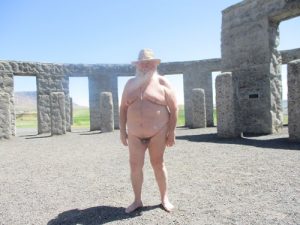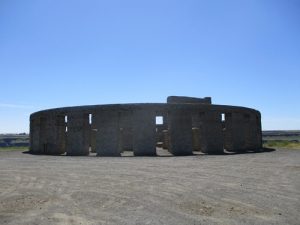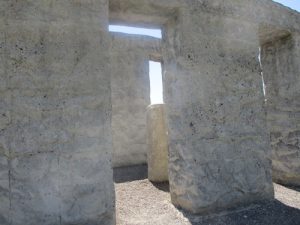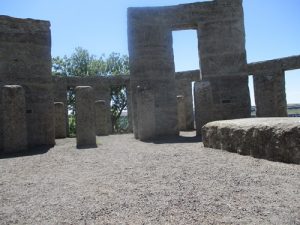 I was on my way to a pagan Beltane camping event held at an aging hippie commune called Windward Foundation http://www.windward.org/. I was driving along when I saw a sign for the Stonehenge replica. My father had taken us to see it way back in the 1950s, and I've been meaning to see it again ever since. So I turned off and went to see. Admission is free. It is not crowded. I was the only person there when I arrived on a Thursday about mid day. I decided it would be good to get naked at the monument.
The Stonehenge replica at Maryhill, WA, USA is perhaps the only full scale replica in existence. It is constructed of concrete, not natural stone, but that works for me. The altar was dedicated on July 4, 1918 to WW I soldiers who died in battle. The remainder of the monument was finished a few years later.
It was constructed by James J. Hill, a wealthy railroader from the 19th century. He also built an amazing manor house for his wife at Maryhill. The manor house is now an art museum you should go see too. I didn't pay admission to the art museum which is a couple miles away from the Stonehenge. Really nice view of the Columbia Gorge.
The Stonehenge replica is now officially a Veterans Memorial for Klickitat County war dead. http://www.maryhillmuseum.org/visit/stonehenge-memorial
If you are ever traveling I-84 east of Portland, OR, turn off at Biggs Junction. Its only a few miles across the bridge and up a hill on the WA side of the Columbia river. Its well worth the extra time to see and feel the stones. FREE parking and admission.