Day 4. The next morning Robert left the group for other commitments, and the remaining members set off for a low level traverse of the ground heading west towards Obertauern. We passed cows grazing amidst high rocky pastures where in Britain one might only expect to see sheep. The cold wind made sure we wore various bits of clothing as deemed suitable, particularly amusing, and a nice counterpoint to his nakedness, were Miguel's patent leather gloves. The wind was at first cool, as it blew clouds scudding against the high rocky peaks above us, but as the day wore on the weather improved as we followed the easy trail which meandered along the wide terrace beneath.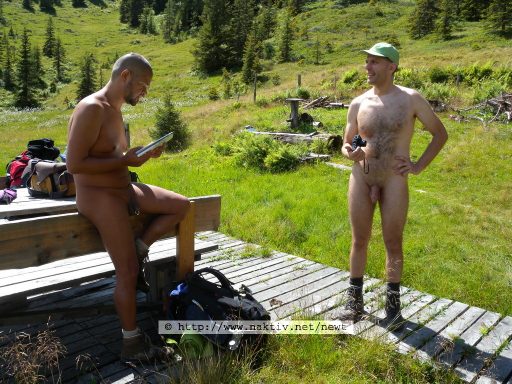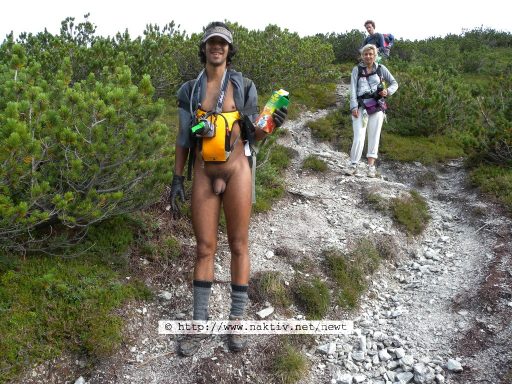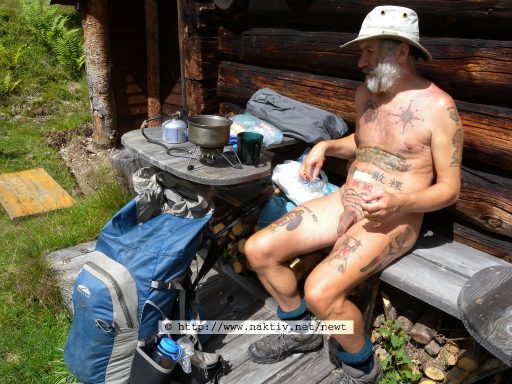 Brian split off from the group to return to the hut via a high ridge route, while the rest of us took the easier and very pleasant low level trail back down to an alm, back along and beneath our outwards route through light and airy forest trails. A distant waterfall competed with the noise from the light but constant traffic on the single road up the Tauern valley below. We encountered several small groups and pairs of walkers along the return route, all of whom exchanged friendly greetings with us. Although one man in particular may have felt a bit picked on, as he met three naked men on the lower trails on his way up the mountain for his day's hiking and, on the high mountain ridge an hour later on, he met Brian on his own, also naked. He could have been forgiven for thinking this was the "naked man mountain". As the day wore on, the clouds were blown away from the summit ridges and, as we lost height, the wind dropped and temperature steadily rose. The sun streamed hotly through the dappled leaves of the alpine hillside, as we wended our way along the small rambling trail stopping occasionally to admire the view. We finally returned to the Suedwiennerhuette for early afternoon tea, a nearly well-earned beer, and to chill out amongst stupendous scenery.
Miguel now left the group to continue his studies, and the group was now down to the three of us, Brian, Roland, and myself. In the event, this was the last day, as Roland and I set to drinking far too much wine and schnapps with Roland, the seemingly dour yet very amiable hut warden and Gabi, his charming waitress. The friendly Nepali cook, whose name I slackly forget, kept us jovial company until he very probably got tired of the inebriated humour and excess of his European hosts. After an excess of jollity, the following day we woke with heads akimbo and, through thick clouds of post-schnapps haze, tried to piece together the end of the week, before each wending our own particular way home.