On Monday we drove to Maishofen, near Zell am See, parked, and set off north into the forest up the hill looming above us. Stripping quickly, the weather looked on us more kindly now and we were soon sweating as we toiled up through the pine forest.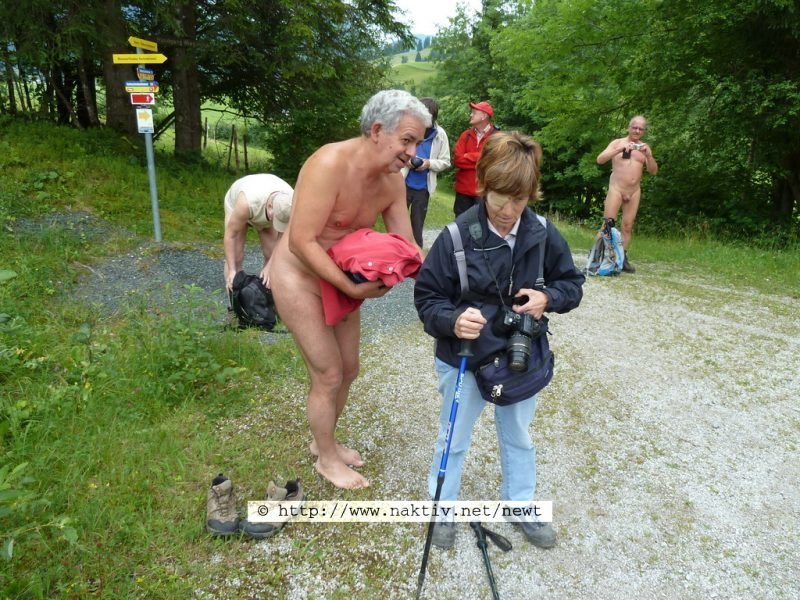 The advantage of being naked of course was that our clothes were dry in our rucksacks, the disadvantage that we still had to carry them. Polly the Collie, even with her little backpack on was desperate to run after sticks the whole time, and it was sometimes with difficulty that we managed to keep her on the winding and narrow trail. Up and up, still further up and up. Occassionally we glimpsed the surrounding peaks getting smaller. After several hours we emerged from the forest onto the ridge and a welcome pause. Then onwards past an unfriendly gasthof, who's landlady came rushing out to us calling "FKK go away, we have children and guests here!". We dressed to pass her house quickly and naturally we were naked again as soon as possible and we continued along below the ridge on a narrow trail towards the high point on the ridge above Zell am See. We were going slowly and stopped for lunch just below the top, Doug, Mira (our Italian lady), Jacques and Sylvie, then joined us for lunch and to walk back up to the top of the ridge. We entered the Hochzelleralm Mountain Gasthof and were sitting down when Jerome, (organiser of the BrusselsWNBR), suggested I ask the staff if it were possible to sit on their terrace naked.
Naturally I thought they'd say no, but was happy to ask. The young and friendly waiter looked surprised, but said that it was late in the day, with not many guests, and if they didn't mind he had no objection either. So I asked a couple on the nearest table, and they said they didn't mind, I dutifully fed the response back to the waiter, and he said, "fine, enjoy your drinks on our terrace naked by all means, then". We needed no further encouragement and our flimsy wraps and shorts came off, much to the surprise of one other couple, who'd I'd neglected to ask. They however were quite ok with the situation also, and Gilles, (admin of the Vivre Nu website), was quick to interview the lady as to her reactions. She was very friendly, gave me her email address to send a photo to, as their camera had ran out of battery power, and we all had a great time chatting to and fro. The proprietress of the Hochzelleralm gasthof now came out, to join her son who was the waiter (it transpired), to get a photo first of all of us to prove to her friends the days events, and finally a self-timer with he and her together in the middle of this somewhat unusual group on their mountain restaurant terrace for their own home-page. The whole event was very friendly, a most pleasant contrast to our earlier gasthof experience, and served only to underline how inherently inoffensive nakedness is and how it's so very clearly only a matter of personal opinion when someone chooses to take offense at our presence. We left in high spirits and headed back down the ridge a short way, before Gilles found yet another couple, (from Canada this time), to interview with his video camera, they also said they had no issues with public nudity in the mountains, although it was not their personal choice of activity. We banked left after a minor summit and descended the long and pretty ridge as the day drew to a close, winding our way downwards. Trudging on, we lost height steadily until we eventually reached Viehoffen , where we could yo-yo with Sylvie for the cars and drivers to return to the farmhouse for a welcome and well-deserved evening meal.
Save