The Spencer Tunick installation for the opening of the Munich Opera season with "The Ring".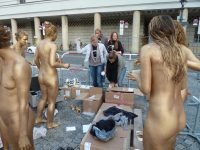 Paul, from Geneva, and I drove into Munich or 02:00, although the city was quieter than during the day there was still a surprising amount of traffic about. We parked and headed into the centre of town, past the Munich Opera House, our intended destination, and on to Marienplatz. We fortuitously met Rob, from Köln, at the entrance to a burger bar, and proceeded to meet up with the others from our little entourage up at the central square. Horst Kehm, admin of the FKK-Freun.DE website and Jürg. We made our way back to the meeting place, to find a huge queue of people trailed along the street, so, being English, I queue-jumped to the front.
Once inside the "compounds", we were separated into two groups, and given a small tin of body paint each. One held gold, the other red, body paint. We'd come to take part in Spencer Tunick's naked installation celebrating the start of the Munich Opera season, and focussing on Wagner's "The Ring", or, as some Germans would have it: Das Ring Ding. The swarms of people grew, until here were perhaps 1700 people, all waiting to get naked in the centre of Munich city.