Nakukymppi
Years ago when I was regularly taking jogging tours, I usually did that early in the mornings. Is was a jogging track close to the villa where we lived at that time so I could jogg directly from home to the track. When at the track, which was mostly in a forest with some slopes and around fields, and no people, I took off the shirt and the shorts and ran fully nude! Well I kept the shoes. It was such a joy, such a marvellous feeling. Early morning, birds singing, sun rising, trees rushing, hardly any noise from the nearby city. I could also admire the huge piece of art that was placed close to the start of the track. It's called "Signs", the artist is Lenny Clarhäll.
Happened from time to time that I met someone, but that was rare. Casued no problem, more of surprised comments if any. It was one of the advantages of living in an area of the city which is close both to the city and to forest and fields.
At that time, in the 1990s, I had not heard of Nakukymppi in Finland. The first race there was in  2003, so understandable! Nakukymppi is a nude sport event in Finland held in the municipality of Padasjoki one week before Midsummer every year. The idea is to run or walk 10 kilometres naked. Participants wear only shoes, socks and headwear. It has been held annually since 2003. It usually draws about 100 to 150 participants, at least 20% women. Many of the participants are naturists.
It's my intention to participate in the race at least once, but the usual time for it, mid June, is normally for me so busy with work.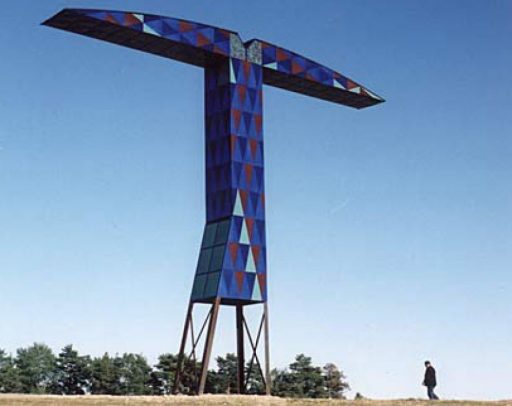 Signs