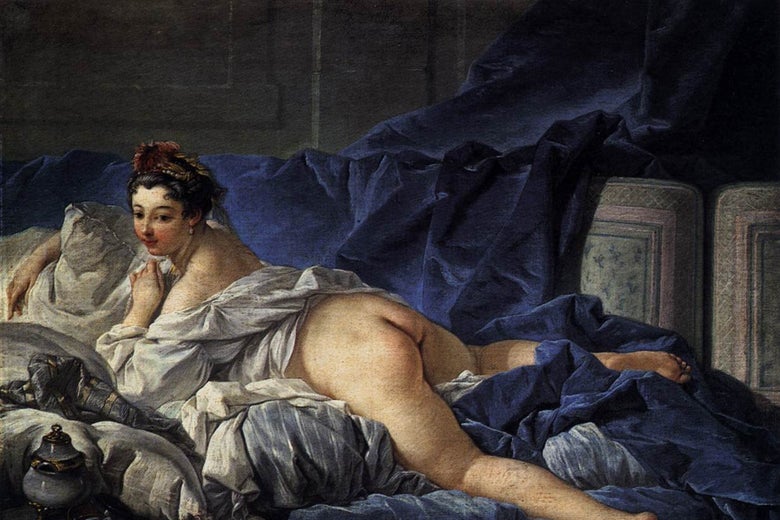 François Boucher's Brown Odalisque, one of the paintings that was depicted in the set of postcards that an art teacher in Utah showed his students on Dec. 4, 2017, leading to his firing.
Art, Nudity and Public Schools: Questions Arise In The Wake Of Controversial Firing
Last month, Lincoln Elementary School art teacher Mateo Rueda was fired after students in his class saw nude paintings in a set of printed cards as part of a lesson on color theory.
Though Rueda did not know there was nude art in the set and confiscated them, he was fired by the Cache County School District. The story has been covered by dozens of national and international news outlets.
Last week, Cache County School District issued a joint statement with Rueda on their Facebook page. Gary Thomas, the district's executive director of elementary education, said they've reached an agreement.
"The conflict between the Cache County School District and Mr. Rueda has been resolved at this point in a satisfactory manner for both of us and at this point our number one concern is that we can move forward and educate kids," Thomas said. "That's our number one job. As far as Mr. Rueda is concerned, he is welcome to apply for any positions in the future that he might be qualified for."
The statement closes with a resolution to reevaluate the district's art materials and policies; while the conflict between Rueda and the district is over, the questions it raised remain. How should schools teach children, especially young children, about nudity and art? Looking back, Rueda recognizes the unique difficulty of the subject.
"It's very hard for, I think, any art teacher to try to manage or deal with the preconceived notions that children have about certain subjects, and ones, especially, related to nudity," he said.
Rueda faces the added difficulty of not being from Utah, or even the United States. Rueda is from Bogota, Colombia. As a teacher, he had to adapt to a new, more conservative culture. As the district plans to reevaluate their art materials, Rueda said he hopes they won't censor classical art in the future.
"It depends on the common culture of wherever you are. In my opinion, art is one of the biggest examples of self understanding and can lead to a lot of personal freedom when it comes to thought and whatnot," Rueda said. "In my opinion, this type of nudity should be addressed properly and allow the students and the parents to make some form of association with the context and what it means and what it matters, and not the one that is just thinking that nudity is sex by default and that's the only thing."
Kamee Jensen's daughter Bella was in Rueda's class. Jensen has spoken out in support of Rueda, saying that he should not have been fired. Now that Rueda has the opportunity to apply for other positions, Jensen said she'd like to see him come back, but doesn't expect him to.
"I feel like it's kind of selfish on my part to expect that he could go back to that school after all of the controversy," Jensen said. "So I'm happy for him, and happy that he's in a good place and that he feels at peace with their decision, but I'm definitely sad that he won't be influencing my children anymore."
Jensen sees the district's handling of the issue as a missed opportunity to educate students.
"These are classical paintings, and this is a huge part of our world," she said. "These images are really amazing, and I feel like we just missed a huge opportunity."
Virginia Catherall is the curator of education, family programs, visitor experience, and community outreach at the Utah Museum of Fine Art. She's in charge of addressing visitor's concerns about nude art.
"Especially with young children, we don't have a curriculum that specifically, 'These are nudes, let's talk about it.' We usually focus on other things," Catherall said.
This could be as simple as color, or animals in art, or art in history, but the museum does have nude paintings among its exhibits. Inevitably, some children do snicker, or gasp, or whisper when nude art is shown. From there, the museum's volunteer teachers are trained to ask why and start a discussion about the many reasons people create nude art.
"And then we talk about it in a way, just as Mr. Rueda did, that there's many reasons people create nude art, not just for the erotic reason, which is one reason, but it's just one of hundreds of different reasons that people create nude art," she said. "Not understanding all those different reasons and not being exposed to all those reasons then becomes a deficit in children's understanding, so we do address it right away. Usually we address it, the children really, because they're not forbidden from looking at it, they become much more mature viewers of it, and then they can go on and go back to their curriculum of color, or animals, or whatever their curriculum is."
When advising school curriculums, Catherall and museum faculty respect the choices schools make based on their students and parents. But Catherall said school isn't the only place children will learn about these subjects.
"Once they go out into the real world, or even after school, when they get outside of school, all of these things come at children, and they need to be armed with tools in order to confront and think through all of the conflict they have in their life," she said.
The Cache County School District has not announced any changes to their arts materials or policies.