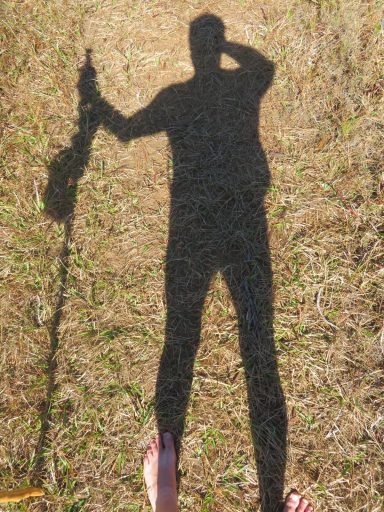 Was far too chilly at 40f (4.4c) when I got up this morning, but by noon it was a quite pleasant 60F (15.5C), so I went on a 3 1/2 mile walk on the prairie.  Quickly got naked as there was nobody else at the trailhead.  Alas, I had no sooner started back when I was startled by another hiker.  He turned around, and went back the way he came.  However, he stood on the trail for a bit and I wondered if he was going to try to gather some photo evidence of my nude state.  I took a different fork in the trail and he did not follow.  Discretion being the better part of valor for the afternoon, I remained clothed.  A good thing, as the trail started to fill up – And this on a weekday. Don't textiles have to go work someplace on a weekday?
I am thinking I should classify my nude hiking trails like this:
A. Absolutely Safe for Nude Hiking (ASFNH)
B.  Sometimes Safe for Nude Hikng (SSFNH)
C.  Rarely Safe for Hude Hiking (RSFHH)
The problem is the variables: Weather, Time of Day, Weekend, Weekday, in Season, off Season and any permutation of these.
I once went nude walking on a deserted Gulf of Mexico beach at midnight during a full moon, and almost bumped into a fisherman.  Hard to be able to walk naked anywhere these days.