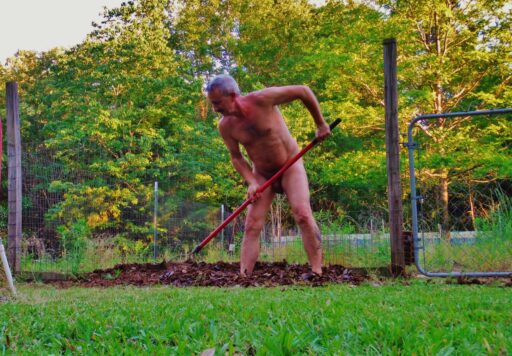 This Saturday, May 02, is "World Naked Gardening Day". It's a great opportunity to get closer to the natural environment while doing productive things, while enjoying the comfort of working in our normal and natural state of nudity. For those of us who already embrace the idea that "nude is normal", WNGD is another way to participate and encourage others to give natural body acceptance a try. For those who have never experienced the outdoors in nothing but bare skin, WNGD can be a wonderful way to step outside of the society-driven body-shaming box and enjoy life as it was meant to be enjoyed…naturally naked!
With the restrictions that many are dealing with at this time due to COVID-19, it may be difficult to spend time outside. But, remember, gardening can take place in many unconventional places, like rooftops, balconies, patios, back yards, and so on. WNGD isn't meant to be a large group function, anyway, so even if one must be alone, or with only close family members, it's still a chance for many to get outdoors and closer to nature.
If you can, I strongly encourage you to get out of your clothes, out of the news cycle, and out of doors on World Naked Gardening Day and spend the day focused on enjoying life and our natural world!
Happy World Naked Gardening Day!