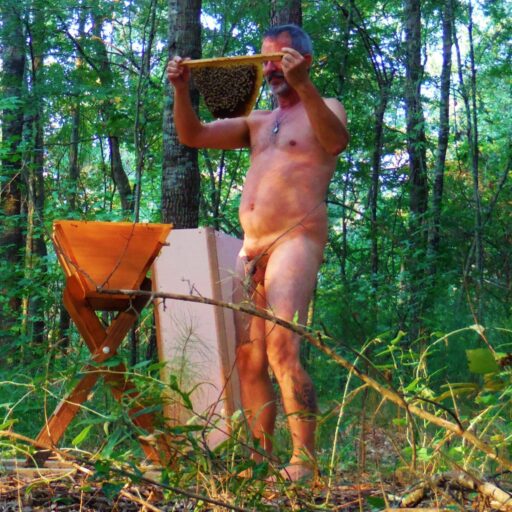 After several years of wishing, I finally started my new hobby of beekeeping last year. Wishing to give the bees the most natural environment possible, I chose to use "top bar" hives, after doing a lot of reading online and in books. Last year's bee colonies were a great learning experience, complete with successes and failures. Both of my two colonies started the 2019 season well, building good honey comb and harvesting lots of nectar and pollen. Unfortunately, one colony absconded late in the summer, for reasons yet unknown. The other colony kept working through the early Autumn, and seemed as if they would do well during the winter, but didn't make it through the coldest months.
I started out using a protective beekeeper's jacket, veil, and gloves, as most apiarists (beekeepers) do. Although the gear worked very well, it quickly became uncomfortably hot as the weather warmed up in late Spring. Trying to stay as cool as possible, I usually wore only a pair of loose-fitting cargo short, with no shirt under the jacket, and I was usually barefoot. Bees would occasionally brush, and sometimes land on my bare legs, without incident, and I quickly became very comfortable about it. The thought occurred to me that if a bee crawled beneath the legs of my shorts, it could become trapped, become defensive, and sting, but it didn't happen, so I kept wearing the shorts.
My gloves are thin leather, with long fabric cuffs and elastic bands that overlap the jacket sleeves. Though they're very good at protecting me from stings, I soon found that it was impossible to feel bees if they wound up between my fingers, or between any part of my hands and any parts of the hives. This presented a crushing risk to the bees, which in turn led to defensive stinging. When one bee stings, it emits a pheromone that alerts the other bees, causing them to also become defensive. When a honey bee stings, it will die, so it quickly became apparent that the gloves were a potential risk to several bees at a time. And, of course, the gloves are hot, just like the jacket.
I started working without gloves, and found that besides being more comfortable, I was able to handle the hive parts, tools, etc. with greater dexterity. I also found that if I placed a bare finger on a bee, I felt the bee before doing any harm, and it would usually just wiggle out of the way and continue it's business. If I placed a finger, or hand in a bee's way, the bee would often simply walk across my fingers or hand, continuing along it's  way.
Soon enough, as with many other activities, I decided to try working with the bees while nude. Online, I'd read some articles, and seen some pictures and videos of people interacting with bees while nude. Having a few wild bees around me, and even landing on me, while I've been nude has been a very common experience, given the fact that I spend a great deal of time nude outdoors. Still, I must admit that the first time I opened a hive with tens of thousands of very active honey bees inside, while wearing nothing at all, I was a bit unsure about it! But I did it, and the bees simply kept right on doing "bee stuff"…working on their comb, buzzing around me, landing on my bare body for a walk-around inspection, and simply doing the things that bees naturally do.
It's been said (quite often, in fact) that I'm "crazy", usually when someone sees or hears about some of my activities. Is nude beekeeping safe? Or am I just taking crazy chances? I cannot say for sure. And I am not recommending that anyone else try interactions with bees while nude. That's something that everyone will have to decide about on their own, if it interests them. Anyone with an allergy to bee stings should definitely NOT try nude beekeeping, as it could prove quite dangerous. Having been stung on many occasions in life, with no bad consequences, I'm relatively confident that I'm not allergic.
For myself, I find that, as with so many other things in nature, the human body was created to harmonize well without man-made inventions. The naked human body apparently seems perfectly natural to bees. This year's two new colonies started their nude-human interactions early, and seem to regard my naked body as simply another part of their natural environment. It might seem odd, or even unnerving to some, to have a few bees landing on literally ANY part of their naked body, but I've come to regard the experience as totally natural, as well. After all, I'm simply hanging out naturally nude with several tens of thousands of my closest friends, who are also naturally nude!