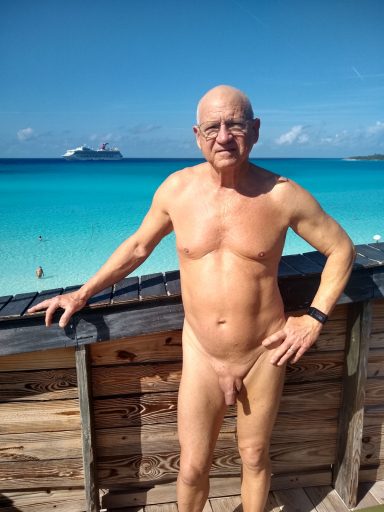 I went on the Carnival Sunshine chartered by Bare Necessities for the Big Nude Boat 2019 Cruise.  I really enjoyed it after the first day when we left Florida on January 25, 2019.  It was cold that day, but warm and mostly sunny after that.  
Being nude most of the time with almost 3000 other nudists while seeing shows, eating and doing other activities on the ship was a fantastic experience.  I was nude almost all the time except while eating in the dining rooms.  I would have preferred being nude there, too.   I don't see why we had to dress in both dining rooms at both dinner times.   At least they were casual, not formal.  I would prefer they were clothing optional as well.   A highlight of the cruise was passengers competing in a costume contest based on "Two Worlds Collide" between Wizard of Oz and Alice in Wonderland.  There were clothing optional passenger talent shows, lip-syncing contests, dancing and seminars as well as the recreational activities of the Carnival Sunshine.
I went on excursions to four beaches that were reserved for us so nudity was allowed on those days.  After the first day at sea, we reached Half Moon Cay in the Bahamas on January 27.  It was beautiful and seeing over 2000 nudists on the long beach there was amazing.  A good lunch was provided at Half Moon Cay.  After the second day at sea, Ocha Rios, Jamaica was the next stop on January 29, 2019.   I went on a paid excursion there to all-inclusive Puerto Seco Beach Club just for Carnival Sunshine passengers that day.   It included a great beach and facilities, non-motorized water sports, on the water obstacle course, great food and unlimited bar drinks.   The staff there were fantastic though visitors to the beach are not usually nude.   The third stop after another day at sea was Mohogany Bay, Roatan on January 31.   I got a great massage, lunch and a Hurricane drink on the beach there.  The next day, February 1, we were at the fourth and last destination, Cozumel.  I went on an speedboat excursion to Passion Island.   It included a beautiful beach, great food and unlimited drinks (including "Sex on the Beach").   However, it was just too short because we had to leave to return to the ship at 1:00 after getting there at 10:00am.
If members of the Sunshine crew were bothered by nudity, they didn't let it show and they treated us great.  I met passengers from many different places and various ages, races, etc. who enjoy casual social nudity.   At age 70, the Big Nude Boat 2019 was my first nude vacation.  I enjoy visiting nudist resorts near home and nude 5Ks, but I hope I can go on more nude vacations including other nude cruises and all inclusive resorts.
I would like to thank MrTexas for going on the cruise with me and for taking the photo on Half Moon Cay with the Carnival Sunshine in the background.   I enjoyed his company and it also helped with the cost of the cabin.